Verre capacitive touch control plates provide an elegant and contemporary solution, highly flexible in their design and function. Featuring either a minimal look with six illuminated circular touch buttons, pre-configured with standard button iconography or bespoke to client specification.
Each button features 'back illumination' employing an RGB LED chip. Colour profiles allow for 'on/highlight' and 'off' colours to be set from a colour palette. Audio feedback can also be set if required. The intensity of the backlight can be automatically adjusted, allowing different settings for daytime, night-time or based on occupancy. The proximity sensor brightens up the plate to welcome an approaching user.
With a choice of black, white and grey plate finishes, and the fexilibity afforded through RGB illuminated buttons, Verre Series provides a refined finish to compliment any interior design.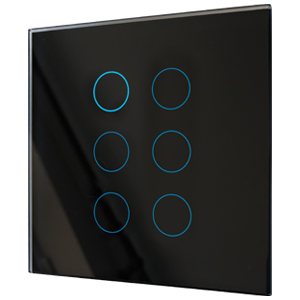 Lighting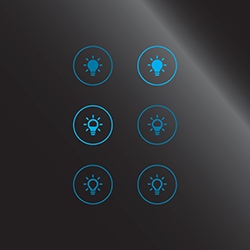 The pre-configured 'lighting plate' provides intuitive control of two areas of lighting within a room or space, button iconography supports a language agnostic solution.
Lighting & Shading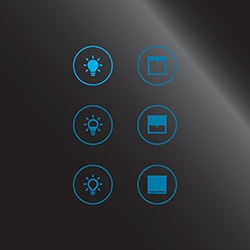 The pre-configured 'lighting and shading plate' has been designed to control a single area of both lighting and shading, ideal where curtains, blinds or exterior solar blinds are installed alongside lighting.
Climate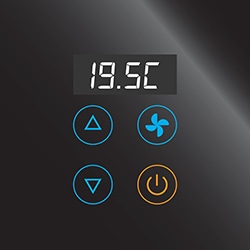 Verre Climate features an integral temperature sensor and digital display showing the room's temperature in Celsius. Alternatively the Climate plate is able to display the space temperature presented by the iLight HVAC-1 Fan Coil Controller There is a power button to cycle HVAC system mode, fan speed control and temperature set point raise and lower buttons.
Bell & Room Status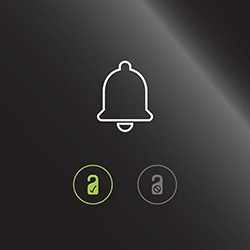 Verre Bell and Room Status Plate consists of a 'Doorbell' button and icons indicating the room status as 'Do not disturb' (DND) or 'Make Up Room' (MUR). Configure to order options include individual non illuminated room numbers.
Entrance Plate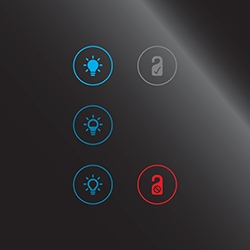 The Room Entrance Plate consists of 3 lighting scenes for use when entering or leaving a room as well as the ability to set the room status to DND or MUR.
High quality 4mm glass front fascia finish
Proximity sensor for welcoming an approaching user
Two part construction, simplifying installation process
Intuitive touch sensitive control with optional audible feedback
Available in black, grey or white as standard
Configure to order options include selection from a comprehensive library of button icons
CE & UKCA compliant to all relevant standards
Designed and manufactured to ISO 9001 standard