System Capability
The iLight network has been designed to offer total freedom and flexibility in system design.
Up to 65000 devices may be connected to a single iCAN network and with distributed data processing it is truly scalable. There are virtually no limits as to what can be added to the system and with no central memory, components can easily be added or removed as required.
iLight's extensive product range includes sources controllers, interfaces and accessories that provide control solutions across residential, commercial and entertainment style projects. All common communications protocols are catered for, ensuring that the iLight system seamlessly integrates with other control components within an installation.
The network utilises iCANnet cable and can be run to a maximum length of 500m. This can be extended with a BN-2 Network Bridge/Repeater.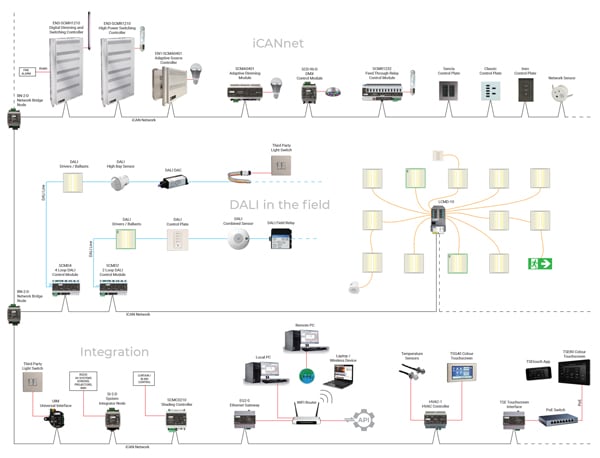 Connected Lighting
You can get more out of your lighting system than you might think
...much more
Everyone needs lighting, and its all around us, so what better way to manage your building performance than through your lighting control network.
Collecting and processing the data on how your building is used empowers you to increase efficiency, optimise performance and be confident that you are delivering a comfortable living and working environment.