Ineo Control Plates
Ineo is a versatile range of specification grade control plates that set new standards in intuitive layout and operation. Users are quickly drawn to the large on/off button controls with associated up/ down adjustments. Available in 5 plate configurations, Ineo can also be ordered with custom engraved buttons. There is even a choice of button size and colour.
Ineo control plates can be ganged together to meet specific project needs. Individual buttons have backlight indicator lights and strong tactile feedback.
Ineo is the clean, elegant, and simple way to control lighting on your project.
Dimensions: 86 x 86 x 35mm (L x W x D)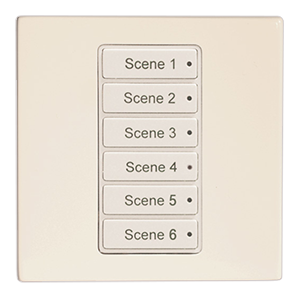 Available in black & white finishes
Standard or custom engraving on buttons
Configuration stored in Non Volatile EEPROM
Firmware storage in reflashable FLASH memory over iCAN network
Configurable start up mode
CE compliant to all relevant standards
Designed and manufactured to ISO9001:2015 standards