Classic Control Plates
These control plates provide the interface between the user and the remote dimmer. Installed in standard single or double gang UK style electrical wall boxes and connected to the dimmer by LV cable, these versatile units can be installed in any chosen position to suit the layout.
Control Plates perform a number of tasks. Their buttons allow users to select lighting scenes, raise or lower levels, or select any other programmed system function. If the Program function is set, they allow lighting scenes to be programmed locally, and their RJ12 socket, when connected to a suitable iCANsoft™ computer, allows full remote access to the whole iLight network. It is possible to have more than one control panel in an area. When used in this way the indicators in the buttons will show which function is selected in the area irrespective of which control panel activated it.
Single and double gang formats
Concealed fixing
Wide choice of finishes and configurations

Dimensions: 86 x 86mm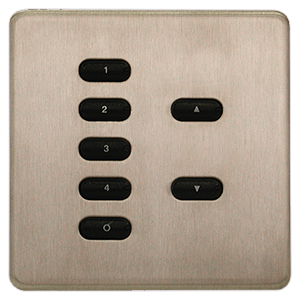 Designed to match Wandsworth Series 3 metal face plates with 15 finishes available
Other special finishes to order
Up to 10 buttons per plate (single gang) or 20 buttons (double gang)
Buttons have integral indication of active button
Blue LED indication on each button
All button functions are programmable - includes 8 sequences
Engraving options on buttons or plate
Hidden RJ12 programming socket in place of button 10
Keyswitch option
Configuration stored in Non Volatile EEPROM
Firmware storage in reflashable FLASH memory over iCAN network
Configurable start up mode
CE compliant to all relevant standards
Designed and manufactured to ISO9001:2015 standards