Network Sensor with Combined PIR, Daylight and Infrared Control.
The NS3 multi sensor can be connected directly to the iLight iCANnet™ Network via CAN terminals. It features 3 functions: PIR motion detection, daylight measurement and an infra-red receiver. All three functions may be programmed within the iLight software according to specific user needs.
The PIR feature may be set in absence or presence detection mode with variable programmable timing.
The daylight feature is used to maintain constant light level where controlled luminance (daylight linking) is required.
In operational mode the infrared receiver may select scenes, turn lighting on/off and adjust levels locally.
The NS3-C sensor's combined features ensure maximum energy savings as well as great flexibility for the user.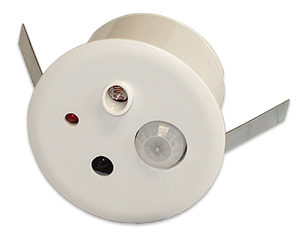 Excellent sensitivity to small movements using Quad-Pyro technology
Greater sensor stability with reduced noise susceptibility
360 degree detection area
Ceiling flush mounted for a low profile, unobtrusive installation
Compact 49mm diameter size ideal for suspended ceilings, chilled beam and In fill plate applications
Connects directly to the iLight iCANnetTM Network
Configuration stored in Non Volatile EEPROM
Firmware storage in reflashable FLASH memory over iCAN network
CE compliant to all relevant standards
Designed and manufactured to ISO9001:2015 standards