DALI Ceiling Sensor with PIR and Daylight Sensing
The iLight DALI Multi-Sensor combines daylight sensing and occupancy detection into a single device. The Multi-Sensor communicates over the Digital Addressable Lighting Interface (DALI) and allows for all device settings and groups to be adjusted remotely.
MTS12 is ideally suited for large coverage in high traffic applications where major motion is expected.
MTS6 is suited to smaller coverage where minor motion is expected.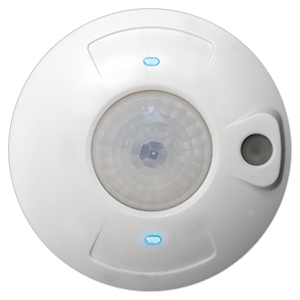 Daylight sensing & occupancy detection technologies combined into a single device
All device settings (timers, sensitivity and groups) programmable through software, no physical adjustments needed
Ultra low profile and small diameter provides an aesthetically pleasing design
Draws power from the DALI communication bus to eliminate the need for external power packs
Sharing sensor data with third party automation systems significantly reduces total bill of materials
Robust communication interface withstands accidental connection to power lines (up to 347V)
CE compliant to all relevant standards
Designed and manufactured to ISO9001:2015 standards