Combined PIR, Daylight and I/R Sensor
This low voltage multi sensor combines PIR presence detection and a photocell in one compact flush mounting design using an RJ12 connector on the rear of the unit.
The action of the photocell and PIR presence detector are separate. When used in conjunction with an iLight UIS Sensor Interface a third infrared receiver mode is also enabled. The infra-red receiver may be used to select scenes, turn lighting on/off and adjust levels locally with the iLight remote controller (HH17IR).
Ideal for intelligent lighting control systems that deploy system programmed intelligence. This multi sensor is perfect for applications where space is at a premium.
The AXCS01SRJ sensor's combined features ensure maximum energy savings as well as great flexibility for the user.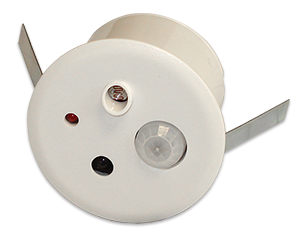 Excellent PIR sensitivity to small movements using Quad-Pyro technology
Greater Sensor stability with reduced noise susceptibility
360 degree detection area
Multiple PIR outputs may be used in Parallel for larger areas of coverage
Daylight level detector with directional aspect
Detectors sit flush mounted in the ceiling tile
Compact 49mm Diameter size for recess installation in Chilled Beam and In fill Plate application
Simple extension connection using RJ12 connector on rear of unit
Supplied complete with 5 metre lead to connect to Lighting Control Systems
CE compliant to all relevant standards
Designed and manufactured to ISO9001:2015 standards