News
The Product Introduction - SCMI0402-G2 & SCMH0410-G2
Tuesday 31st January, 2023

The iLight team are please to introduce the latest additions to our family of 2nd generation controllers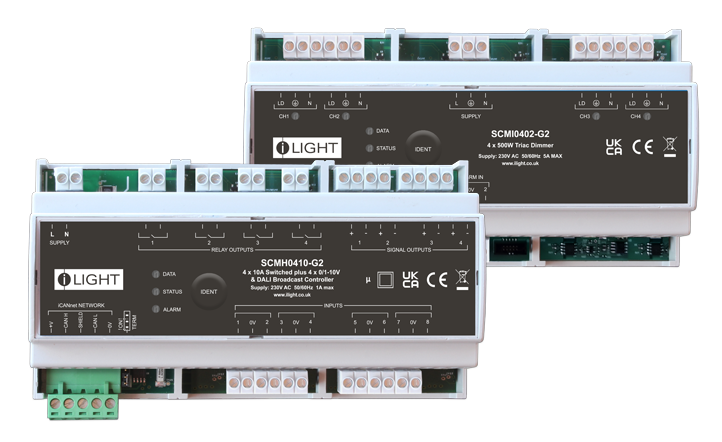 SCMH0410-G2
The SCMH0410-G2 is an indispensable addition to our family of DIN rail source controllers. Bringing together the best of our compact switching and DALI, 0/1-10V control products, the result is a compact yet powerful controller that supports innumerable applications, both in networked systems and as a standalone room controller.
While the SCMH0410-G2 provides direct succession for the SCMH0410 it also boasts a host of additional features and capabilities. In reviewing feedback from partners and specifiers alike, it was possible to build a rich and detailed picture of end users requirements, so specifications can be met without obstacle.
Building on the success of our 2nd generation relay controllers, the SCMH0410-G2 also employs our innovative relay power management significantly reducing the power the device consumes. The relays can be switched independently or in tandem with the signal lines, they can just as easily be employed to control ancillary items such as local HVAC, air handling units or other non-lighting devices.
SCMH0410-G2 now also benefits from far greater capacity on the Broadcast DALI or 0/1-10V lines, increasing the potential quantity of luminaries that can be controlled by as much as 5 times.
Worthy of mention are the eight, independent switch inputs. Far exceeding the majority of competitor product in quantity and capability these inputs enable all manner of standalone room control applications to be achieved with minimal additional hardware.
These features added to the products configurability promotes the SMCH0410-G2 as one of the markets best in class!
SCMI0402-G2
Do people still phase dim? - They certainly do! Phase dimming has its place, and in many cases is a cost efficient means by which to control the lighting in a space.
Due to the advancements in light engine and LED lamp technology, we have seen greater and greater numbers of high quality retrofit LEDs dimming beautifully in 'Leading Edge' mode. To avoid a deep dive into the science behind phase dimming technology, its simplest to say we have built on 20+ years of experience in power electronics and load control and are introducing a product that is designed to control larger LED or conventional leading edge loads, more accurately, control smaller loads and better accommodate the particular characteristics of a lamp or load.
With 'Scaled' dimming, it is now possible to set the dimming range to meet the characteristics or response of an LED load - a great feature where potentially the first and last few percent of the standard dimming range does not perform as well. We have also added truly 'hard fired' TRIAC control for a smoother and more accurate management of the loads.
Unlike their predecessors, both the new SCMH and SCMI 'G2' (2nd Generation) controllers connect directly to the iLight network, simplifying system topology and making every project easier to specify, saving time and space while reducing costs.
View the product pages here: