TSE Touchscreen Interface
The TSI-1 Touchscreen Interface enables the use of multiple TSE55 and TSE80 colour touchscreens and ensures synchronization of screen configurations across an entire building installation. It also facilitates connection to iLight's TSEtouch app enabling personalised control from your compatible hand held smart device.
Additionally a built in scheduler allows for timed events to suit your building needs and BACnet capabilities for the integration of building services such as HVAC, further enhancing the capabilities of this powerful interface unit.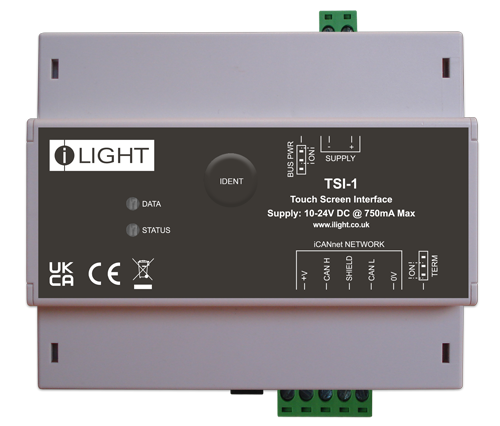 Connects iLight's TSE55 and TSE80 touchscreens to the iLight network
Connects multiple TSE screens and mobile devices running the TSEtouch app
Configurable IP address
Scheduled events
Supports smart device applications (iPhone® / iPod touch® / iPad® / Android)
BACnet communication over TCP/IP
CE compliant to all relevant standards
Designed and manufactured to ISO 9001:2015 standards