iLight Network to iLight Network Bridge
BN-2-D is a DINrail mounted bridging module that allows 2 or more iLight iCANnetTM network segments to be connected together or arranged logically into floors or areas for ease of management. The bridge is also used to extend the network as a repeater where more than 500m of cabling is required or more than 100 network devices are used on one segment. BN-2-D also allows network messages to be filtered to ensure optimal performance in larger networks.
BN-2-D allows multiple network segments to be connected together, enabling up to 65,000 devices to exist on a single system.
It also improves reliability of larger systems by isolating and containing any network cabling faults when used correctly.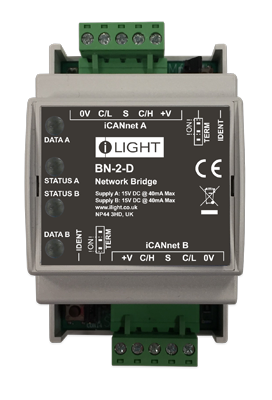 Configurable as Network Bridge Filter or Repeater
Enables Larger networks by segmenting long cable runs
Single control of multiple iCANnet™ networks
Enables networks to grow beyond 500m of cabling
Allows larger multi story applications to be installed and commissioned floor by floor
CE compliant to all relevant standards
Designed and manufactured to ISO9001:2015 standards