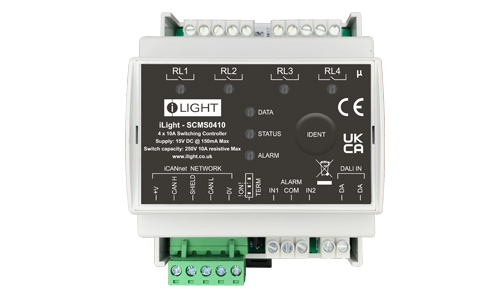 4 x 10Amp Switching Source Controller
This 4 channel 10 amp switching unit provides outstanding features and performance at a truly competitive price. It is rated at a maximum total load of 40 amps of continuous inductive lighting load. This unit is designed for switching lighting loads of most types or can be utilised where volt free switching is required.
With iLight network connectivity, it has the ability to be linked with a virtually limitless number of other products to build up to any size of system.
Dimensions: 73 x 90 x 60mm

Weight: 0.25 Kilogram
4 x 10 Amp switching source controller
DIN rail mount with lugs for wall mounting if required
Switches resistive, inductive and capacitive lighting loads
Quiet operation
Configuration stored in Non Volatile EEPROM
Firmware storage in reflashable FLASH memory over iCAN network
Configurable start up mode
Circuit protection installed separately as required
CE compliant to all relevant standards
Designed and manufactured to ISO9001:2015 standards