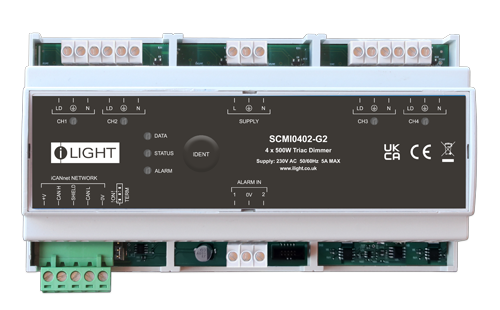 4 channel - 2A Leading edge phase cut dimmer
This compact lighting controller provides up to 5A of leading edge phase dimming across four channels.
The outputs provide control of continuous inductive lighting loads. They are suitable for resistive, inductive, LED and low voltage electronic transformer loads (TRIAC/leading edge dimmable).
SCMI0402-G2 features 'Scaled' dimming, making it possible to set the dimming range to meet the characteristics or response of an LED load - Ideal where potentially the first and last few percent of the standard dimming range does not perform as well. The device also employs 'hard fired' TRIAC control for smoother and more accurate management of the loads.
Two inputs provide the opportunity to not only connect an alarm but a wide range of peripheral volt free contact devices.
With iLight network connectivity, the SCMI0402-G2 can be linked with a virtually limitless number of other iLight products to build a system of any size.
Up to 2A load per channel (Device maximum load 5A)
DIN rail mount with lugs for wall mounting if required
Dims resistive, inductive, compatible LED and low voltage electronic transformer loads & TRIAC/leading edge dimmable loads
Quiet operation
Connects directly to the iCANnet network
Alarm inputs
Device temperature management
CE & UKCA compliant to all relevant standards
Designed and manufactured to ISO9001 standard