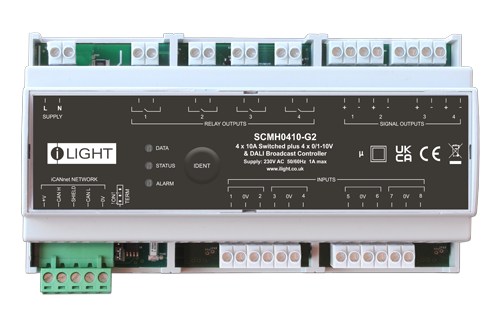 8 channel controller - 4 volt free 10A switched outputs & 4 channels of 0/1-10v or broadcast DALI
The SCMH0410-G2 is an indispensable addition to our family of DIN rail source controllers. Bringing together the best of our compact switching and DALI, 0/1-10V control products, the result is a compact yet powerful controller that supports innumerable applications, both in networked systems and as a standalone room controller.
Each of the four volt free contacts can be switched independently or in tandem with the signal lines, switching up to 10A of load, they can just as easily be employed to control ancillary items such as local HVAC, air handling units or other non-lighting devices. All switched outputs are phase independent and support AC, DC or volt free contact switching applications.
With an integral power supply, SCMH0410-G2 has sufficient capacity to support 50 DALI ballasts or 30 0/1-10V ballasts per signal output.
Eight inputs provide the opportunity to connect a wide range of peripheral volt free contact devices, such as simple momentary action switches, door/window contacts, alarm inputs or presence/absence detectors.
With iLight network connectivity, the SCMH0410-G2 can be linked with a virtually limitless number of other iLight products to build a system of any size.
4 volt free - 10A switched outputs
4 channels of dimming for 0/1-10v or broadcast DALI
40A maximum load
DIN rail mount with lugs for wall mounting if required
Phase independent volt free switching
Quiet operation
8 freely programmable inputs
Intelligent device power management and temperature monitoring
DALI Broadcast line monitoring for providing lamp, ballast or communication failure notification
Connects directly to the iLight network
CE & UKCA compliant to all relevant standards
Designed and manufactured to ISO9001 standard