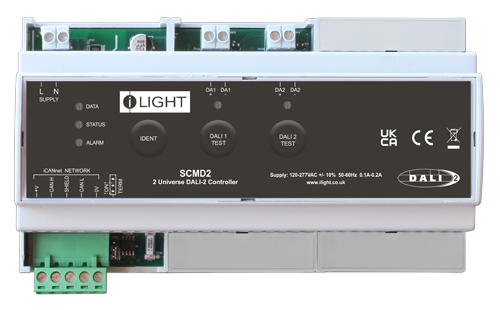 2 Universe Fully Addressable DALI Controller
The SCMD2 is a 2 universe DALI ballast controller enabling dimming and switching of up to 128 individual addressable DALI devices including luminaires and iLight DALI relays. iLight DALI multisensors and control panels can be added to the DALI universes creating a complete DALI solution. Each DALI universe supports up to 64 groups and can monitor the performance of DALI addressable devices and report status back through iCANnet™. Emergency light tests and reporting can also be instigated through this versatile lighting controller.
Additional switches and sensors can be connected onto the iCANnet™ network using iLight's wide range of interfaces. The compact design of SCMD2 delivers system flexibility as well as reducing installation costs and space used. Being part of the iLight system, it can be seamlessly integrated into flexible architectural lighting schemes with any type of lighting load for commercial and residential applications. Integration with Building Management Systems allows for centralised control and management of the lighting system.
64 groups per DALI universe
iCANnet™ and DALI line compatible
Dimensions: 159 x 90 x 58mm (L x W x H)

Weight: 0.35Kg
DALI controller – can individually dim, switch and monitor up to 128 DALI addressable ballasts
64 groups per DALI universe
Includes ability to control and test DALI emergency fittings
Supports iLight DALI sensors and control panels
Connects to the iLight network via screw terminals
2 Internal DALI universe power supplies
Each universe has a dedicated test/override button allowing the installer to test or override the installation prior to commissioning
DALI universe LED status indicators
Configuration stored in Non Volatile EEPROM
Firmware storage in reflashable FLASH memory over iCAN network
Configurable start up mode
DIN rail mount with lugs for wall mounting if required
CE compliant to all relevant standards
Designed and manufactured to ISO9001:2015 standards