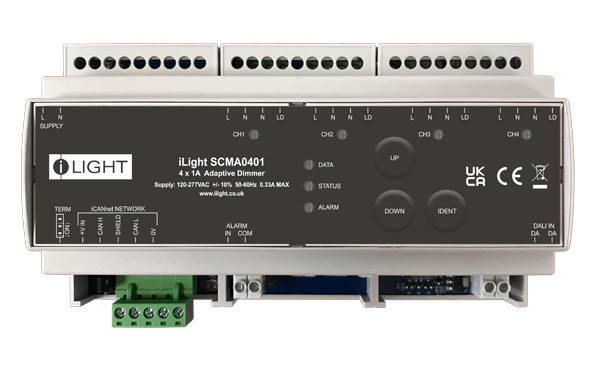 4 Channel x 1A Adaptive Dimmer – DINrail Mount
Designed and tested to meet the unique demands of mains dimmable LED the SCMA0401 is the ideal solution for your lighting control needs.
With our Patent Pending* "iLight Adapt" trailing edge technology the SCMA0401 will adapt to the particular characteristics of each connected LED load to deliver the best possible dimming performance and compatibility. Scalable dimming curves optimise the effective dimmable range particularly enhancing control and sensitivity at low lighting levels.
In addition to its "iLight Adapt" trailing edge mode the SCMA0401 also offers leading edge and switched modes, selectable by channel, to extend the capabilities beyond just LED loads to other lighting types such as incandescent and halogen lamps for dimming or switching (Note: SCMA0401 is not for use with inductive loads).
With iLight network connectivity the SCMA0401 may be linked with a virtually limitless number of other iLight products to build up any size system. Alternatively, it can provide phase cut dimming capabilities to a DALI system using its DALI input.

*19-IGL-1211 PROV (13682 227745) Draft - Provisional patent application - Adaptive Lighting Dimmer.
Compact 4 x 1A mains dimmer optimised for LED loads
Channel pairing for 2A loads
Selectable dimming modes – "iLight Adapt" trailing edge, leading edge and switched
DALI Input (4 individual DALI addresses)
Short Circuit protection per channel
Scalable dimming curve to optimise the usable dimming range of a load
No minimum load
Quiet dimming operation
Configurable Alarm Input (volt free)
Push buttons for local testing of channel outputs
DINrail mount with key hole slots for wall mounting
CE compliant to relevant standards
Designed and manufactured to ISO9001:2015 standards