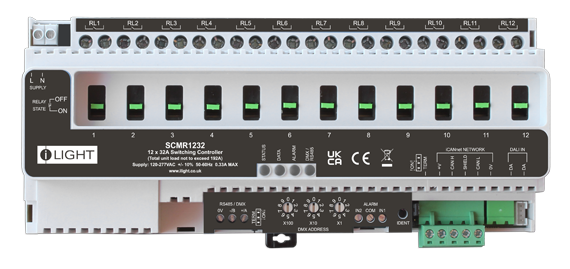 12 Channel 32 Amp Feed Through Relay Controller
This 12 channel feed through relay unit provides outstanding features and performance in a truly competitive and compact package. Each channel is rated for up to 32 amps and is designed to sit on load lines to switch heavy loads of all types.
With iLight network, DMX and DALI connectivity, it has the capability of being linked with a virtually limitless number of other products to build up to any size of system. This product is designed for projects where high power switching is required including metal halide and high pressure sodium lamps as well as non-lighting loads of any voltage up to 230VAC.
Max total load 192A
iCANnet and DALI line compatible

Dimensions: 212 x 90 x 58mm

Weight: 0.8 Kilogram
12 x 32 Amp feed through relays
Any phase on any input
Mounts to standard Top Hat (TS35) DINrail
Switches resistive, inductive and capacitive lighting loads
Intelligent 'Built in' propagation delay for switching sequence 1-12
Manual override of any channel
Integral processor
iLight network terminal connections
DALI in (12 address DALI end device)
RS485 / DMX512 in
2 x Auxiliary Inputs
Configuration stored in Non Volatile EEPROM
Firmware storage in reflashable FLASH memory over iCAN network
Configurable start up mode
CE compliant to all relevant standards
Designed and manufactured to ISO9001:2015 standards