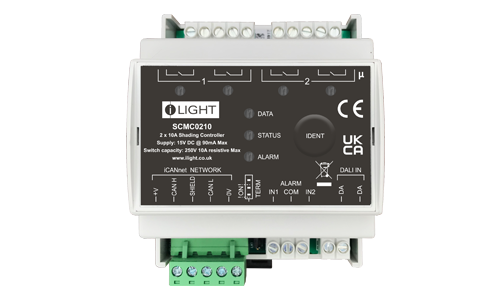 2 Channel 10 Amp Shading Controller
The SCMC0210 is a 2 channel shading controller providing outstanding features and performance in a truly competitive and compact package.
SCMC0210 is factory configured to provide independent control of 2 sets of 3 wire shades, curtains or blinds. Each shading channel is rated at 10Amp max. The individual relays operating only as pairs.
With iLight network connectivity, it has the ability to be linked with a virtually limitless number of other products to build up to any size of system.
Controls 2 sets of motorised shades, curtains or blinds
Mounts to standard Top Hat (TS35) DINrail
Integral processor
Controlled via iCANnet or DALI
Configuration stored in Non Volatile EEPROM
Firmware storage in reflashable FLASH memory over iCAN network
Configurable start up mode
CE compliant to all relevant standards
Designed and manufactured to ISO9001:2015 standards