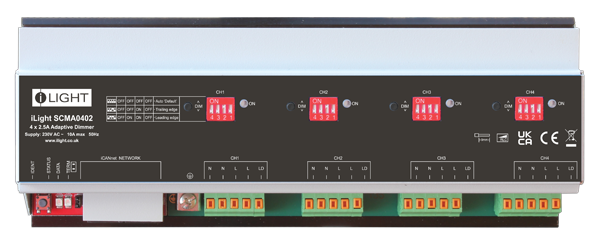 4 x 2 Amp Adaptive Leading or Trailing Edge Source Controller
This 4 circuit source controller is fully rated for dimming all conventional types of lighting including incandescent lamps, high and voltage halogen lamps and low voltage halogen lamps with electronic transformers. There are 4 separate dimmer inputs and outputs each with a load capacity of 575W*. Each channel includes a DIP switch for selecting leading, trailing or auto operation depending on the load type.
Where loads greater than 2.5A are required, channels can be paired together providing 2 x 5A of control, or 1 channel of 5A with 2 additional channels of 2.5A.
The SCMA0402 includes a 128 scene integral memory this device offers multiple control options to meet the most demanding specifications. The unit connects directly into the iLight network and has the standard scene control and configuration features of iLight dimmers.
With the iLight network connectivity, it has the capability of being linked with a virtually limitless number of other iLight products to build up to any size of system. This product is designed for projects where there are multiple channels of architectural lighting.
Max total load 10A

Dimensions: 227 x 90 x 49mm

Weight: 1 Kilogram
4 channel adaptive source controller
DIN rail mount
Dims resistive, inductive and low voltage electronic transformer loads
Circuit protection (MCBs) installed separately as required but unit includes electronic short circuit protection and overload protection through internal temperature measurement
DIP Switches per channel for selecting leading, trailing or auto operation
Channel pairing where loads of more than 2.5A are required
LED indication of operating status
Configuration stored in Non Volatile EEPROM
Firmware storage in reflashable FLASH memory over iCAN network
Configurable start up mode
CE compliant to all relevant standards
Designed and manufactured to ISO9001:2015 standards