5.5" backlit capacitive LCD touchscreen
The TSE55 touchscreen is a flexible device which provides an intuitive "user friendly" method of interfacing to the iLight control system. The LCD capacitive screen provides virtually limitless flexibility of system configuration and control. It is completely software based, and programs can be tailored to suit the precise needs of the user. The touch screen can also be used to provide control of other integrated systems such as curtains and blinds and HVAC.
TSE55 comes with a choice of two graphical skins which can be swapped between easily at programming stage to the clients preference. The look can be further personalised by adding custom background images - From a branded hotel welcome page to a minimalist theme for a home cinema room.
TSE55 connects to the iLight network using a TSI-1 touchscreen interface.
Fully customisable graphic layouts
Compatible with TSI-1 Touchscreen Interface

Dimensions: 148 x 87mm
12NC: 912600000524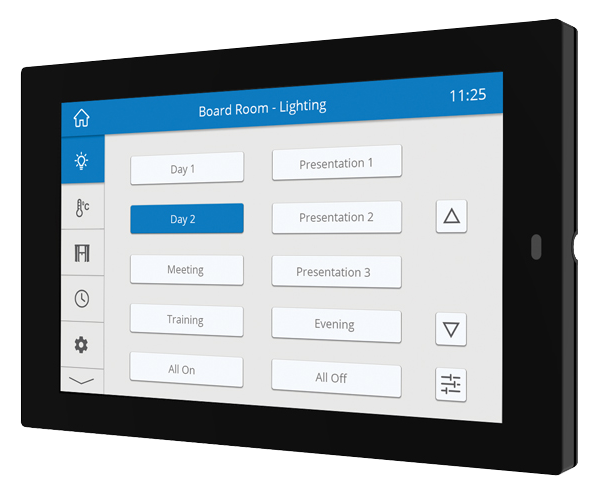 5.5 inch (139.7mm) diagonal backlit capacitive LCD touchscreen
Supports multi-touch & gesture
1280 X 720 pixel resolution
Colour Depth: 16.7M colours, 450 nits brightness
Fits standard UK single gang back box, standard European single gang back box or standard US NEMA single gang back box. Minimum depth: 47mm
All graphics and buttons can be customised
Password feature to allow different access levels
CE compliant to all relevant standards
Designed and manufactured to ISO9001:2015 standards